The first half of 2019 has been great for Hallyu Drama fans, with recently concluded Hotel del Luna, which is now TVN's highest-rated drama, to the ultimate kilig Netflix series Love Alarm. Here are upcoming Korean dramas to watch out for:
VAGABOND
The much-awaited reunion of Lee Seung Gi and Suzy (they did Gu Family Book in 2013) will finally be released this month! With a whopping 25 Billion Won (approximately $23 million) budget, Vagabond is one of the top Korean Dramas with highest production cost—with some scenes shot overseas.
It's an action melodrama and the story revolves around a stuntman (Lee Seung Gi) who was involved in a tragic plane crush and a secret agent of the National Intelligence Service (Suzy).
Release date: September 20, 2019
WHEN THE CAMELLIA BLOOMS
Gong Hyo Jin, Kang Ha Neul, and Kim Ji Suk star in the romantic comedy "When the Camellia Blooms." This is Kang Ha Neul's first acting role since his military release last May 2019. The story is about a bar-owner Dong Baek (Gong Hyo Jin), a single mother, whose life changes after meeting three men—a good man, a bad man, and a mean man.
Release date: September 18, 2019
MELTING ME SOFTLY
We say yasss! to Ji Chang Wook's comeback Korean drama after completing his military April this year. "Melting Me Softly" is a romantic comedy about a producing director (PD), played by Ji Chang Wook, and a part-time employee at a broadcasting station (Wo Jin Ah) who participated in a project to be frozen for 24 hours—only to wake up 20 years later.
Release date: September 28, 2019
VIP
A star-studded K-drama is set to premiere this October, with Jang Nara and Lee Sang Yoon as lead stars! VIP is a mystery drama about a team that deals with VIP customers of a department store. Jang Na Ra and Lee Sang Yoon play a couple who work on the same team but faces an unexpected case—causing their lives to fall apart.
Release date: October 7, 2019
SO I MARRIED AN ANTI-FAN
Pre-produced drama "So I Married An Anti-Fan" starring Girls Generations' Sooyoung and Choi Tae Joon has already finished filming, and now, we await for air date! It's a romantic comedy about a top star (Choi Tae Joon) and his anti-fan, a magazine reporter (Sooyoung). Due to circumstances, the two participate in a reality TV show where they have to live together. They give each other a hard time on the TV program but ended up attracted to each other.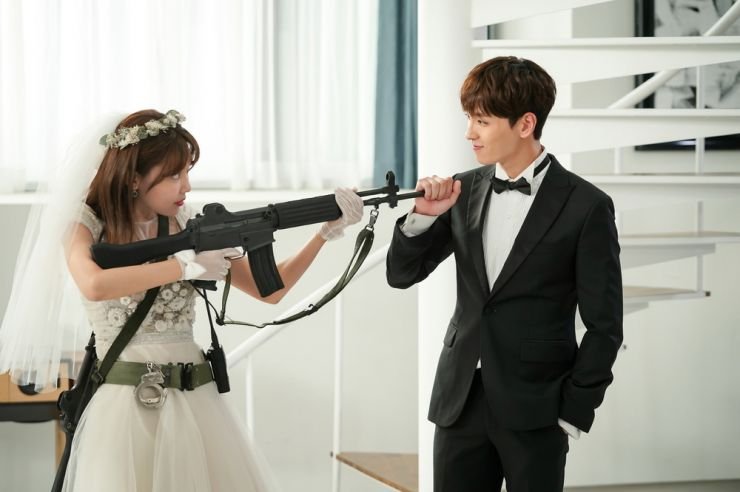 Photo via mydramalist.com
KINGDOM 2
The news of Kingdom 2 was confirmed following the cliffhanger ending of season 1, and everyone's just excited to see what's in store in this K-thriller! Official production of the second season started February 2019 and is expected to wrap up soon. However, Netflix have not announced a confirmed release date yet to date.
Lead cast Ju Ji Hoon, Bae Doo Na, and a lot more will return for the new season, with new casts Park Byung Eun and Kim Tae Hoon. Kingdom Season 2 is expected to start with the attack of the undead to the city (even though it's sunrise already) as well as the follow through to Seo Bi (Bae Doo Na) and Beom Pal's (Jun Suk Ho) discovery of the flower which caused the outbreak of the undead from the Frozen Valley.
SCHOOL NURSE AHN EUN YOUNG
Another Netflix series starring top actor Nam Joo Hyuk and and well-known actress Jung Yoo Mi is slated for a 2020 release. The series a fantasy drama based on a novel of the same title written by Jung Se Rang. The story is about a school nurse named Ahn Eun Young (Jung Yoo Mi) who has a special ability to see ghosts and has a unique and comical way of exorcising. While Hong In Pyo (Nam Joo Hyuk) plays a teacher at the school who becomes Ahn Eun Young's partner in doing exorcism.
ITAEWON CLASS
Top Hallyu actor, and definitely one of our favorite Oppas, Park Seo Joon is gearing up for another drama! He is confirmed to star in the upcoming drama "Itaewon Class," based on a popular Daum Webtoon of the same title. His leading lady Kim Da Mi, who became popular for her acting in the movie The Witch, will be making her drama debut through the series.
The story is about a son who lost his father and eventually became a CEO of a food company. The series is expected to feature the lives of young people who are brave enough to start a food business in Itaewon—a famous neighborhood in Seoul known for its dining and nightlife.
Release date: 2020
THE KING: THE ETERNAL MONARCH
A lot of our favorite Hallyu stars are returning this year from their military service and definitely one of our faves, Lee Min Ho, is set to comeback next year with "The King: The Eternal Monarch" alongside Kim Go Eun! They will be working with screenwriter Kim Eun Sook, who also wrote The Heirs (2013) and Goblin (2016), which also starred both stars, respectively. Filming is set to begin this second half of 2019.
The King: The Eternal Monarch is a fantasy romance drama with two parallel worlds, where one shows the modern day South Korea while the other is an alternative universe wherein the country is ruled by a single monarch. Lee Min Ho plays the ruler of the Korean Empire while Kim Go Eun is a modern-day detective. The two end up working together to fight evil and close the door between their two worlds.
Release date: 2020
SSANG GAP POCHA
Another webtoon will be made into one of the best Korean dramas this 2020. Ssang Gap Pocha (meaning "Double Decker Carriage") is a popular webtoon rated 10 out of 10 on Daum and won Excellence Award during the 2017 Korea Comic Awards. The drama will star BTOB's Yook Sung Jae and Hwang Jung Eum.
The webtoon tells the events that take place in a mysterious pojangmacha (outdoor drinking establishment), which appears in a strange place late at night.
Release date: 2020
Tell us, which of these Korean dramas are you excited to binge-watch?